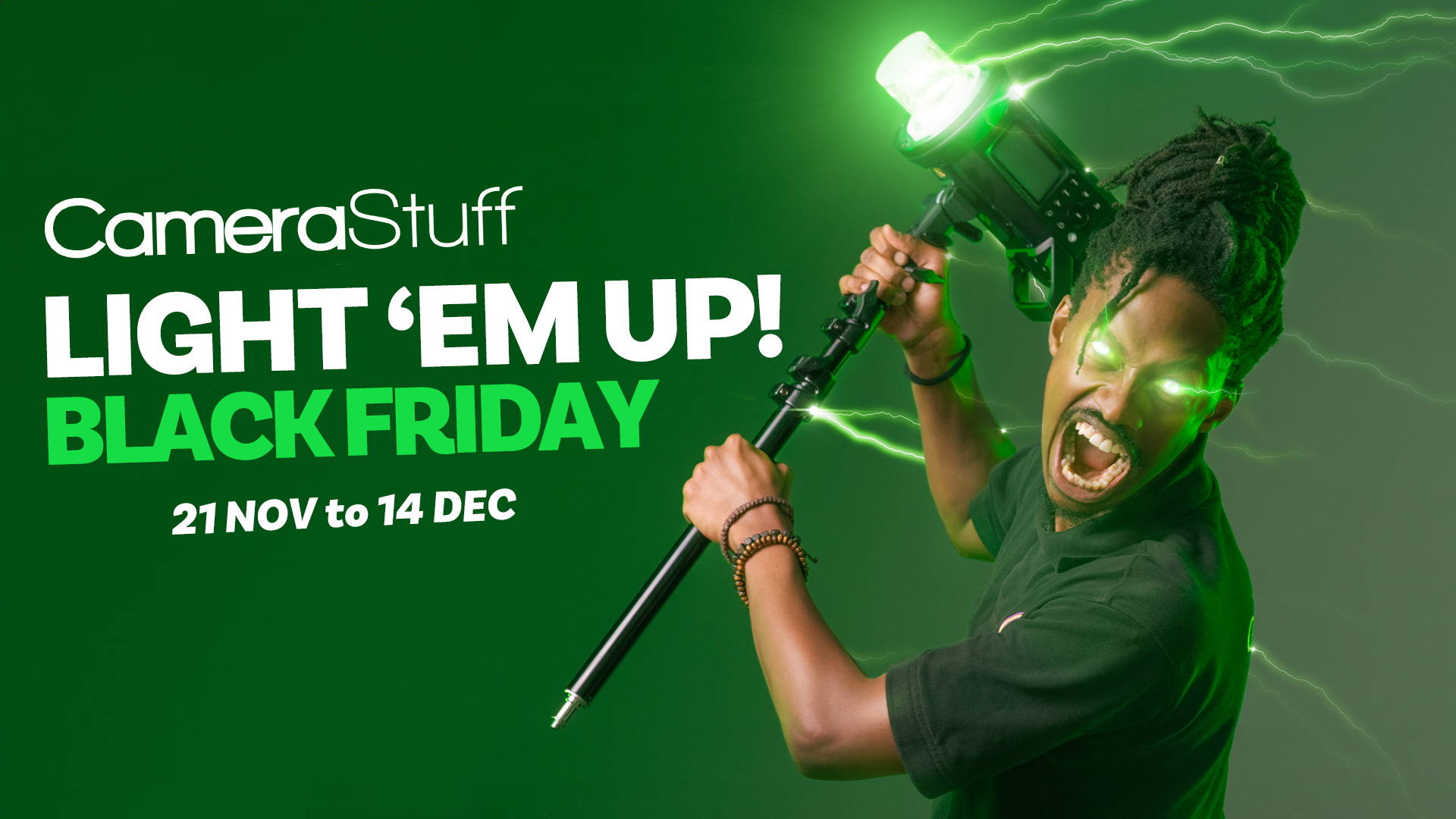 Terms and conditions apply. See at end of page
It's Here! CameraStuff's Black Friday Specials!
In a world on the brink of chaos, where shadows dance in the dimming light, a force is stirring. Unseen, unheard, yet undeniably present. It's coming....The hero within you; power that transcends the ordinary. Are you ready light up the world?

Light 'em Up with CameraStuff's Black Friday Specials! From the 21st of Nov to 14th December, enjoy sitewide discounts on photography and videography lighting, gear, and backdrops.
New Godox and Neewer Gear on the Horizon!

We anticipate the current significant port congestion to affect the arrival of our Godox and Neewer stock. If the stock arrives during the Black Friday sale, discounted prices will apply. However, if the stock arrives after December 14th, we will assess the situation and potentially need to make price adjustments. We apologize for the inconvenience caused by these factors, which are beyond our control.
Terms and Conditions
• Promotion Period:

The Black Friday specials are valid from November 21st to December 14, 2023.



 

• Discount Details:

Enjoy a 10% discount on products sitewide. +/- 25% off on Product Bundles. (Note: Bundles are normally discounted by 15%, and with the additional 10% sitewide discount, the total discount will be plus or minus 25%.)

 


• Special Discounts:

Benefit from a remarkable 50% off on select End-of-Life (EOL) and Clearance Sale products.

 


• New Product Shipments:

Anticipate new shipments, particularly for Godox and Neewer stock, arriving after November 25th. For updated product listings and availability, please check our website.

 


• Stock Availability:

Discounts are valid until stocks last, and all offers operate on a first-come, first-served basis.

 


• In-Store and Online Purchases:

Discounts are applicable for both in-store and online purchases.

 


• Price Adjustments and Cancellations:

We reserve the right to adjust pricing or cancel specials at our discretion.

 


• Non-Combination of Discounts:

Black Friday specials cannot be combined with any other discount codes or ongoing promotions.

 


• Delivery Delays:

Due to the anticipated high demand and the Black Friday rush, please expect delays on deliveries.

 


• Return, Warranty, and Exchange Policies:

Normal returns, warranty claims, and exchange policies apply to all Black Friday purchases.


By participating in our Black Friday specials, you agree to adhere to these terms and conditions. We reserve the right to modify or update these terms as necessary. For any inquiries or concerns, please refer to our contact information provided on the website. Happy shopping!